FPC's 40th anniversary celebrations have commenced with a team day out to Partridge Lakes Fishery in Cheshire.
Partridge Lakes is owned by Dave Ikin, one of FPC's first clients going back 40 years so it was a fitting venue for the celebrations. Dave started the business with the help of FPC back in 1990 following a heart attack. His grandfather had bought the land in 1899 for £1000 and had grown cauliflowers, cabbages and potatoes on the fertile soil.
Set in 70 acres of idyllic countryside with 15 individually landscaped waters (plus a tackle and bait shop and lakeside café), the venue offered lots of potential for the team to hone their angling skills.
On arrival the team was fuelled up for the day with a full English breakfast before the fishing commenced.  They were then split into two groups, with Mark and Bernice acting as team leaders for the day. Each fishing 'peg' was allocated an expert tutor from Partridge Lakes to guide them through the art of pole fishing – including how to apply bait.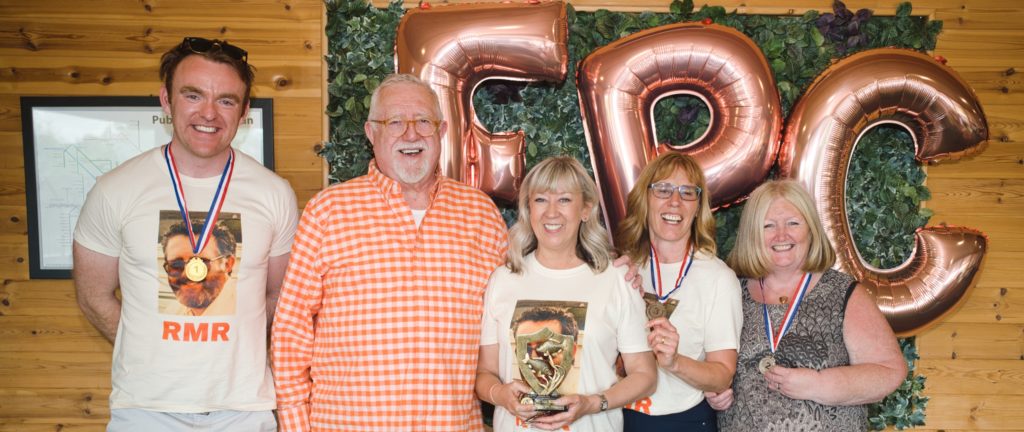 Afternoon tea was served and the day culminated in the presentation of prizes for the biggest fish caught, won by Ste Caffery and biggest catch, won by Amanda Hastings.
Surprisingly it was the venue's first corporate event and was a resounding success for everyone – even the ones who had never gone fishing before!
Check out the video from the day:
To find out more about the venue, visit the Partridge Lakes website.