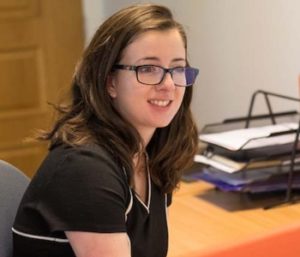 Here at FPC, we encourage our team to aim high and strive to be the best they can.  Our Chartered Financial Planner, Helen Thomas represents a shining example of what can be achieved with dedication to continual professional and personal development, and the commitment and support of FPC too of course.
We caught up with Helen just after she attained Fellowship of the Personal Finance Society (PFS), the most prestigious level of achievement in our industry.  We asked her to elaborate on what being a Financial Planner means to her.  There's more to the job than meets the eye…
How did you get to be a Financial Planner at FPC?
Like many new under-graduates, I had no idea what I wanted to do after University so after graduating with a Business Degree in 2014, I decided to apply for a graduate apprentice role with a specialist pension company. Although the role itself was interesting, I wanted to learn more about the advice being given and not just how the pension scheme was run.
Because of my background in pensions, I was hired by an Independent Financial Adviser firm to help with their pension Auto-Enrolment proposition. Over the course of two years, I moved from an administration role targeting pensions to a Financial planner role. I also completed the Diploma in Regulated Financial Planning and began my journey to the Advanced Diploma and Chartership.
I realised fairly quickly that I wasn't satisfied with the type of Financial Planning that I was doing as it was solely focused on products. I wanted a move to a firm of Financial Planners that were client-led rather than product led.  That's when I decided to make the move to FPC in January 2018.
What qualifications do you need for the role?
I started with The Diploma in Regulated Financial Planning as that gives you a base of knowledge to build on, covering investments, pensions and taxation. This is made up of 6 exams and can take any length of time to complete and is dependent on the individual.
After the Diploma, my next move was the Advanced Diploma. There is a marked difference in the difficulty of the Advanced Diploma exams and I had to complete a minimum of four exams at this level to gain the Advanced Diploma. The exams delve deeper into the technical aspects of each module.
After gaining the Advanced Diploma and completing five years in the profession, I applied to be a Chartered Member of the Personal Finance Society which demonstrates your technical capability and experience. These qualifications are all set by the Personal Finance Society (PFS) and there are other Chartership routes which also provide similar levels of knowledge.
After Chartership, I took the decision to aim for Fellowship with the PFS and successfully achieved this in January 2021. In addition to this, it is possible to move onto a level 7 qualification, the Certified Financial Planner which I am planning to do in the next two to three years.
Name three essential skills that a Financial Planner needs?
Empathy and understanding
Problem-solving skills
Attention to detail
What does a typical day at FPC look like?
Whilst working from home, the average day starts with a good cup of coffee and a catch-up on the news from the day before as well as emails that have come in overnight.
Zoom calls have definitely become the norm and as we are all working remotely, a good catch-up call is usually in the diary with one of the team.
We are lucky to have such a variety of clients at FPC so no one day is exactly the same. I usually have a couple of reviews and recommendations to prepare each week and of course, the odd task may come in which involves a bit of research and investigation, which I enjoy!
What do you love about working for FPC?
There are three things that spring to mind immediately:
The first being that the planning work is really interesting and we have great clients. The combination of the two means that it's a really rewarding place to work.
The second is that everyone is very knowledgeable and determined to do things right so it's a great place to learn and develop. The team are really supportive and encourage exam progression.
Finally, I enjoy having the opportunity to make a difference in our local community.  Last year I helped out with bag packing and food deliveries at the Venus Centre, a local organisation which helps vulnerable families and those in supported living.  FPC has since established its own FPC Foundation, supporting a whole range of great organisations and causes, both local and further afield and I'm proud to be on the panel to contribute to ideas on how we can continue to make a difference to people's lives.
I've also been able to spread the word about careers in finance to young people. I'm involved in the CII's Discover Fortunes and Insuring Women's Futures initiative which has involved working with a local girls school to create awareness of maths based careers and issues around financial wellbeing. It's so rewarding to be able to boost the profile of our profession!
What do you enjoy doing when you're not at FPC?
I love food so really enjoy cooking and learning new techniques and recipes. I also love entertaining so any chance to have family and friends round, I take it!  Travel is another passion and I aim to visit every continent.
I also love getting out of the city (Liverpool) and try and get back home to the family farm in Anglesey as often as I can!