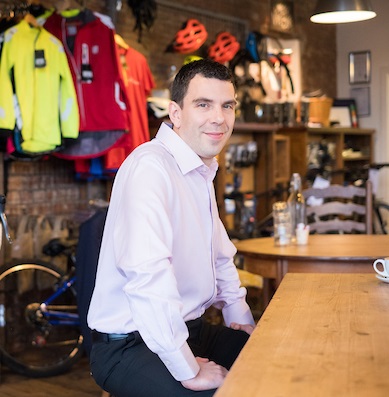 As our job description suggests, the way we do things at FPC is different to many of our competitors. We had a chat with one of our Senior Advisers, Nick Evans at MeCycle, our local coffee shop, to find out more about his experience of working for FPC…
How did you get to be a Senior Adviser at FPC?
I didn't follow the typical route to the job. After graduating with a Management Degree from UCLan I spent 2 years with HMV on their management course before falling into the recruitment sector where I worked for 10 years.
I was introduced to the role of Financial Planner during a chance conversation with one of my wife's friends who was a Financial Adviser. I had become disillusioned with recruitment, trying to give people an excellent service in a broadly unregulated industry with low standards and minimal barriers to entry. Having run a successful business based on listening to people and translating their goals into plans, it seemed an obvious career progression. I was confident in my soft skills and not at that stage daunted by the exam path ahead of me.
My entry level exams took 9 months and though self-funded, they paid for themselves immediately, literally! The adviser who had helped me set up my first pension hadn't told me I should be reclaiming higher rate tax. I immediately filed a backdated claim and got a nice cheque!
With hindsight those first exams were the bare minimum I needed to get a foot in the door. After several years of working in general practice I was introduced to FPC, ironically via a recruiter and joined the team in 2012. That was when I really started to learn about Financial Planning!
What qualifications do you need for the role?
I started with the Financial Planning Certificate which you sit on touch screens next to people doing their driving theory test. The bar was moved higher in 2012 as a result of the 'Retail Distribution Review' (RDR) so I made sure I progressed to Diploma before that came in, again self funded.
On joining a FPC it was obvious that as a Chartered firm the longer term goal was to be Chartered. With a young family it wasn't easy but having my fees paid certainly helped as did the fact that all three FPC partners had been through the same exams/family balancing act.
I was confirmed as Chartered in December 2015 and almost immediately the question was 'what next?'. For the moment I'm on an exam break but doubt that will last much longer.
Name 3 essential skills that a Financial Planner needs?
A yearning to understand
An eye for detail
Great communication – verbal & written
What does a typical day at FPC look like?
Perfection would involve planning ahead for a client project, setting aside a day or two, turning off the phone and not having email open. Some of the best planning comes from really getting into a case, understanding all of the client drivers and then working out a way to communicate a really clear plan.
Real life on the other hand dictates that things are never that linear and giving our clients a bespoke service sometimes requires us to be reactive. Similar to a 'Family Office' we might be the first call a client makes if something goes wrong and that is when we need to be flexible.
Most days involve lots of multi-tasking but typically there is a core thread involving an ongoing or initial client review which may involve building a report or meeting the client to present it. At the same time we need to be accessible to our administrators for any queries on contracts, funds or new business.
So a typical day includes all of the above, plus ongoing discussions about process or compliance.
What do you love about working for FPC?
I think that the level of detail that we gather during the 'Understanding' stage of the process at FPC sets us apart from the competition. We encourage our clients to let us into every aspect of their financial life, with a specific focus on their risk profiles. This makes for a more interesting job for the team, with an opportunity to perform some really in-depth analysis.
It's not just about the level of involvement that you have with the clients though. I've had the opportunity to step up and make a difference in other aspects of the business, for example in FPC's Supply Chain Management. We work with a number of product providers and I've been responsible for reviewing their propositions, setting our standards, recording the process and then explaining the answer. It has meant more responsibility but taking this role from our Partners has freed up more time for them to spend with clients.
Having Chartered status at FPC means that I am able to get involved with other aspects of our Partners' roles too, with their guidance. At FPC there's a real team approach, with everyone working together to achieve a common goal. It's great when we see our solutions making a real difference to people's lives.
I've had a career path that's progressed to being involved with practice management and also being a registered CF30, which means that I am authorised to give regulated advice. We often have to be honest with clients and say that nobody can predict the future but in working at FPC I'm as confident as I can be.
What do you enjoy doing when you're not at FPC?
Our partners encourage a healthy work/life balance and often tell us to go home as a job can usually wait. Home life is generally family time with a mix of books, films, Lego, parties and outdoor fun, weather permitting.
Other than that I enjoy an occasional run (getting slower and slower), possibly followed by a glass of red and a similarly slow box set binge. We have been known to re-watch favourite series which include The West Wing, The Good Wife and more recently Billions.