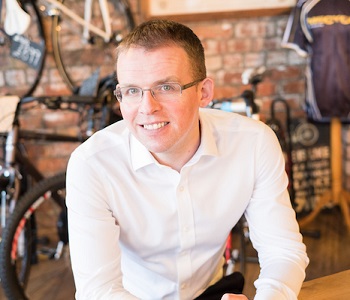 As our job description suggests, the way we do things at FPC is different to many of our competitors. We had a chat with one of our Senior Advisers, Paul Welsh at MeCycle, our local coffee shop, to find out more about his experience of working for FPC…
How did you get to be a Senior Adviser at FPC?
I've always been interested in maths and numbers generally. I came out of University with a business degree and started working for a major insurance company. When I was made redundant I started looking at alternative careers and discovered the role of Financial Planner. I approached a number of IFAs while studying for my Financial Planning qualifications. I landed a job working as a Relationship Manager for a firm of Chartered Financial Planners in Liverpool and while working there, was approached by FPC. The rest is history…
What qualifications do you need for the role?
I already had the Diploma in Financial Planning when I joined FPC. With their funding and support I then went on to study for Certified Financial Planner, affiliate of STEP and ultimately Chartered Financial Planner status.
Name 3 essential skills that a Financial Planner needs?
Ability to work alone and as part of a team
Good report writing skills
Ability to listen
What does a typical day at FPC look like?
I generally have a good idea of which tasks I want to be working on before I get to the office, but I usually spend the first half an hour catching up with emails and reviewing my workload to identify what I would like to achieve by the close of play.
After an essential MeCycle coffee, I get cracking on my main tasks for the day. I typically work on either a client review or a bespoke piece of planning for a client. Reviews generally involve updating the client's cash flow model and looking at their current circumstances to identify any planning issues that need our attention. We also analyse the investment strategies that we have employed to determine whether they are still suitable or whether changes are required.
Planning involves more in-depth analysis of a particular issue followed by the production of a recommendation report to present to the client.
Case discussions with the lead adviser take place throughout the day to review the client file and agree a course of action. If I am involved in a client meeting, then this can take up the best part of the morning or afternoon, as I present the planning that I have undertaken for that particular client.
We regularly receive a telephone call or email from a client relating to an on-going issue which requires immediate attention. This can waylay even your best-laid plans but it's all part of the job.
Given the complexities and the range of issues that we deal with, a typical working day is both challenging and rewarding!
What do you love about working for FPC?
When I came to FPC for my initial interview the first thing that struck me was the level of knowledge that the partners had between them. Working closely with them on a daily basis means that you get the opportunity to learn so much and I think that our clients really benefit from the sharing of knowledge that results.
I also think that the role of a Financial Planner at FPC is probably more client facing than in most financial planning firms, as it's not just about numbers. I get to work with the team to develop a real understanding of what matters to the client. It's great to be able to see their vision turn into reality.
I think many financial planning firms have a more transactional approach. Here at FPC we try to convey the message that we're in it for the long term. Our partners have been working with some of our clients for 30 years so there's a real feeling of trust. They often say that we're part of the family.
No two days are the same. The role is so varied and we get the opportunity to work with a diverse group of high net worth clients, from retired business owners to successful executives. I also work closely with a network of specialist professional advisers such as accountants and solicitors which provides another dimension to the role.
What do you enjoy doing when you're not at FPC?
I enjoy going to the gym, watching sport, cooking (I'm quite the vegan cook!), reading and relaxing with friends and family.