Some of our clients will be aware that we are in the process of road testing a new client portal which aims to improve and simplify access to all your financial information.
We've called the portal FPC View and we would like to give you a quick update on our rationale for this key investment, progress to date and the benefits that you can expect to enjoy.
Why?
First of all, why do we need a client portal?  We are in the very privileged position of having access to sensitive and personal client information which needs to be protected.  We take that responsibility very seriously and the safety and security of your data is our priority.  Our investment in FPC View reflects that commitment.
It also underpins our mission to continue to build a robust and sustainable business with a bespoke, futureproof solution that enables our clients to access and store information easily and at their convenience.
What is FPC View?
It's a portal where you'll be able to see your investments, savings and pensions at a glance but through which you can also access bank account balances (if you choose), property valuations and other financial data and associated paperwork, all in one secure place.
You'll be able to log in on any device, whether it be laptop, tablet or via our new app on your smart phone and get 24/7 access.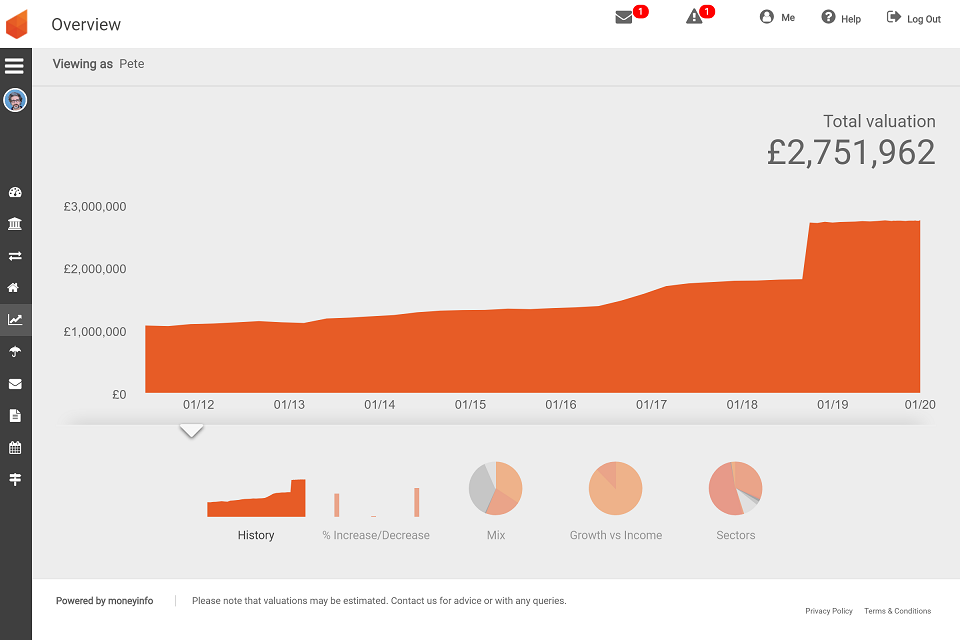 What are the main benefits that I can expect to experience from FPC View?
Transparency – a dashboard gives you a snapshot of your entire financial situation and easy access to everything that you need
Visibility – you'll have instant access to your investment portfolio, with valuations (updated daily) and a history across your entire portfolio
Ease of access/security – secure messaging and storage of documentation is enabled via your own personal digital filing cabinet where all your paperwork including wills, property deeds, policy documents, valuations and statements can reside (if you choose), in one safe and secure and place
Privacy – privacy controls allow you to decide who your information is shared with so you are always in control of your data
Peace of mind – if a situation arises where all your information needs to be accessed, you'll know that it's safe in FPC View
Will I still have personal contact with FPC?
Absolutely! Nothing will change in terms of the level of individual contact that you have with members of the FPC team. The purpose of FPC View is to add value to the service that we are already providing by giving you more options and improving the security and safety of your data.
Please note, use of the portal is not compulsory, although we will be encouraging our clients to embrace this technology, and we will ensure that they have all the necessary support to do so.
When?
We are currently in the process of performing final trials for FPC View and would like to thank those clients who 'volunteered' to help us road test the system.  Your feedback has been invaluable.
Our aim is to introduce FPC View at client reviews from next month.  We will contact clients in advance so they can download the app and access the system.  Further details and updates will follow in the coming weeks.
In the meantime, don't hesitate to give us a call if you have any queries.