It's been a whirlwind of a few months at FPC but we're glad to say it's all positive news! We've had a prestigious award win, two new members have joined the team and we've got a new addition to the extended FPC family.  Here's a quick summary of some of the main events…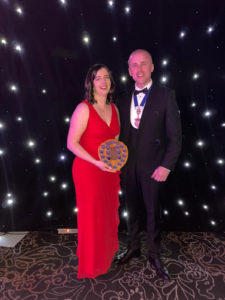 Young Achiever of the Year Award
We are delighted to announce that our Chartered Financial Planner, Helen Thomas, was presented with the Insurance Institute Liverpool Young Achiever of the Year Award at a glittering gala dinner a couple of weeks ago.
The award is open to employees under the age of 35 who have achieved 'something of significance' in the last year and have made a positive contribution to their profession.
During 2021 Helen not only continued to climb the ladder in terms of her qualifications and ongoing professional development but was also instrumental in ensuring that the FPC Foundation continues to identify and support vulnerable people in our local community, whilst spreading the word about the importance of financial education to young people.
We're not sure how she fits it all in! Find out more about what Helen achieved during 2021…
New Starters
We've welcomed a new Financial Planner, Antonia Roberts to the team. Antonia started her career in Personal Tax for a Manchester based firm and then moved to a Liverpool firm, where she gained her wider business consultancy, accounts and audit experience. She then completed her Diploma in Financial Planning at a firm specialising in Financial Education and Guidance and became their first ever female Investment Adviser before progressing to a national Wealth Management firm and subsequently moving on to FPC.
Antonia comments: "Financial Planning can be life changing when done properly and from what I've experienced so far at FPC, every aspect of our client's needs is considered to ensure that the they achieve their goals, both financial and beyond!"
In her spare time, Antonia enjoys golf and is currently focusing on improving her short game at Formby Ladies Golf Club.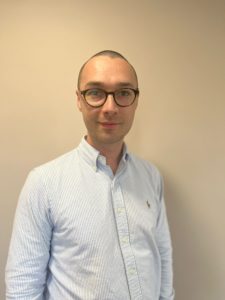 We've also enhanced our data expertise with the addition of Jack Haimes to the team. Following a career in banking, Jack gained a Masters in Business Analytics and Finance.
As a Data Quality Analyst, Jack will be helping us with our general data storage and management processes but also providing support to our investment team. His first task will be to implement a new business system, so we'll be keeping him on his toes!
Jack comments "I enjoy finding insight hidden in complex situations. This mindset has led me to pursue qualifications in data and analysis, with focus on investment. Being surrounded by a team of friendly and talented individuals at FPC, I feel extremely supported at the beginning of my journey in financial planning."
Outside of work Jack often spends time socialising with family and friends.  He has an eclectic taste in music and loves cooking and a good read. Jack also enjoys watching and participating in sports, including football, bouldering and skiing.
Welcome to the world, baby Beatrix! 
And finally, our Investment Director, Mike Lea is celebrating the birth of his baby daughter, Beatrix Ada Lea, weighing in at a healthy 7lbs 13oz! Mike and the family are delighted with the new addition, although sleep is in short supply at the moment as Beatrix only sleeps when being held! Congratulations from all at FPC!