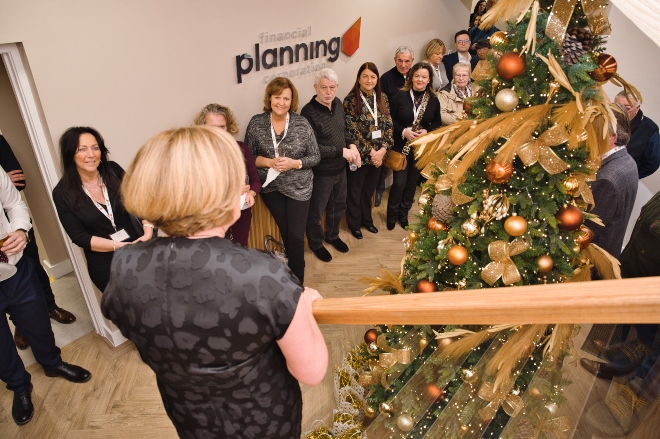 The Christmas celebrations got underway early at FPC this year as we thankfully managed to celebrate the re-opening of our newly refurbished and extended offices with some of the local community groups that we've supported over the years, together with members of the Ainsdale business community, before the recent restrictions were introduced.
FPC was keen to stay in Ainsdale, where we've been part of the community for over 20 years so the opportunity to acquire the adjacent premises of Betty's hairdressers, a long standing local business, together with two flats, presented us with the ideal solution.  We embarked on an ambitious build over the next 18 months to join the two premises together.
Although we realised that the flexibility of home working can have benefits, FPC is a people-based business and while Zoom provided a lifeline (and we now have a dedicated Zoom room to allow that to continue) it's no substitute for the face-to-face contact that we feel is essential for clients making life-changing financial decisions.
While many businesses have adopted permanent working from home or hybrid arrangements, FPC is bucking the trend by more than doubling its workspace, with more space for additional parking and EV charging facilities.  The new offices provide a spacious and modern place to work and meet, in a secure environment where social distancing measures can be adhered to.
In the first of a series of events planned for the new office launch, FPC invited local community groups that have been supported by The FPC Foundation since its launch last year to a VIP drinks reception.  Local Ainsdale based businesses were also invited to thank them for their patience during the building work.
Speaking at the office launch event, Moira O'Shaughnessy, Managing Partner of FPC commented: "In 2022 we will have been helping our clients to secure and protect their future for 40 years and for over half of that time, we have been part of the Ainsdale community.
Our investment in the building, together with our IT infrastructure and the continued expansion of the team underpins our commitment to FPC's long term future. We've built a solid, sustainable business that we're all proud to work for as we enter our 40th year. None of this could have been done without the help of our clients, partners and the patience of the local community over the last 18 months so we thought we should raise a glass to them!  We're excited and optimistic as we enter the next chapter in FPC's story."
The former owner of the adjacent premises, Belinda Rimmer attended the opening and commented: "We have owned the building since the early seventies and our family's hearts and souls were put into it for many years.  I have to say I felt truly delighted with the way that FPC has entwined our buildings and has given them a new life.  It could not have been done more tastefully and I hope that they will love and enjoy the building for a long time to come.  I wish them all the best!"
The FPC Community Open Day is the first in a series of events which will be taking place throughout 2022 when the firm celebrates its 40th year.  We look forward to inviting our clients and partners to celebrate with us.