Two members of FPC's financial planning team, Helen Thomas and Hayley Wake attended Greenbank High School's annual maths in industry day last week.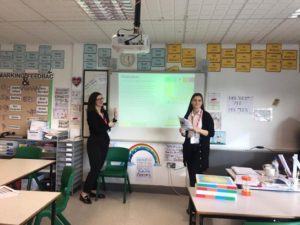 The aim of the day was to introduce and explore careers that use maths as an integral part of the job so it was a natural fit for the FPC team. Helen and Hayley presented the Chartered Insurance Institutes' (CII) 'Discover Fortunes' game to the students to demonstrate the job of a financial planner in a simple and effective way. The students took on the role of financial planners and had to make recommendations to their 'clients' based on the information they received. It required lots of listening, persuasion, teamwork and of course, maths!
Helen comments: "The day was really rewarding and it was great to see the students getting involved and discussing the dilemmas of a financial planner. It's really important to get girls into maths and business as it opens up a whole world of opportunities."
The students thoroughly enjoyed the day with everyone saying that they had learnt something new and nearly all saying they preferred the session to classes!
The CII's Discover Fortunes and Insuring Women's Futures initiatives aim to get women to make financially informed study choices and to talk about money to help to tackle financial wellbeing.  Chartered Insurance Institute CEO, Sian Fisher said: "For women to take action to improve their financial futures, we need to get them to understand and talk about the financial perils and pitfalls they face because of their gender."